Parma Hotel Ponte • Parma
As the ancient capital of the dukedom of Parma and Piacenza, this city boasts one of the most important Roman architectural works in Italy, the Duomo (Cathedral) whose dome was designed by Correggio.
The Baptistery by Benedetto Antelami stands to the side of the bell tower on the same piazza. This is an important monument in pink marble, marking the passage from the Roman to the Gothic era. These two structures represent the city's most important and symbolic monuments.
Also worth a mention is the Complesso di San Paolo, a Benedictine monastery where the "Camera di San Paolo" has been preserved - a wall painting created between 1519 and 1520 by the Correggio - as is the Church of Santa Maria della Steccata and the Church of San Vitale.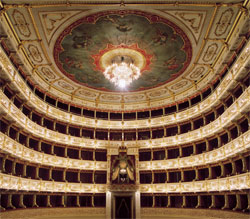 TEATRO REGIO PARMA
This is one of the most well known theatres in the Italian lyrical scene, situated in the city's historical centre and hosting numerous operatic representations, concerts and ballets.
The fulcrum of Italian culture and melodrama, this theatre also boasts noteworthy architecture with its neoclassical facade.
It was built following the wishes of the duchess Maria Luigia and designed by court architect Nicola Bettoli.
The theatre, which in the early stages of its life hosted "Zaira" by Bellini and "Il barbiere di Siviglia" by Gioachino Rossini, now hosts a variety of artistic representations such as the opera season and concerts between January and May, ballets and modern dance by Parma Danza and the Festival Verdi during the month of October.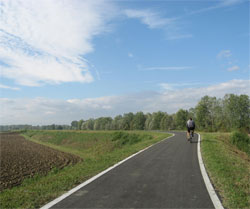 PARMA PO CYCLE TRACK
A great opportunity to admire the Po river views, a strip of nature between the Taro river and the woods of Maria Luigia in Torricella, subsequently arriving in the Parma Morta natural reserve, situated in the ancient streambed of the municipality of Mezzani - undoubtedly the Parma Po cycle path.
The path crosses through the enticing Strada del Culatello di Zibello, whose main product is the renowned Culatello (type of Salami made from pork loin), which can be tasted in one of the many food stops along the way.
The itinerary is approximately 50km long and the cycle path mainly travels along the bank of the river.